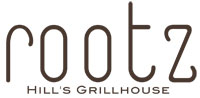 Rootz Hill's Grillhouse is an open-kitchen concept restaurant where diners have full view of chefs grilling mouth-water steaks on a 3 tiered robata grill or watch the flames dance as the pizza bakes in the copper tiled pizza oven. The dining area is set with dark walnut furniture, creating a rich and cozy ambience that welcomes guests without feeling intimidated.
Rootz Hill's Grillhouse serves international breakfast buffet and ala carte daily. Lunch on Monday to Thursday is ala carte, and Friday to Sunday is buffet. Friday lunch theme is Seafood Feast, Saturday is Tour of Asia and Sunday is Market Brunch, which is a special day of the week for most families. Sunday Brunch offers grilled rack of lamb, beef strip loin, beef short rib, pork, and chicken satay, an array of seafood, salads, artisan breads, appetizers, salads, dessert, champagne and select beer.
For dinner we feature prime cuts of beef like our most popular cut of 32 oz. wet aged Tomahawk and 16 oz. dry aged Porterhouse. The dinner menu also offers a selection of surf and turf entrees. To add to your dining pleasure, we offer a selection of fine wines from around the world.
Rootz Hill's Grillhouse is committed to making your dining experience a pleasure.
Business hours:
Click Here to View the Current Hours of Operations


Reservation: 
Click Here to Make a Seats Reservation
 

Phone:  (+1 671) 646-7803

Reservations: (+1 671) 649-7760